Like I said in my last entry, I'm not super-trendy. I do, however, keep track of the trends when I can. I also go to stores, and of course I do some people watching. And really, trends are unavoidable, unless you want to just wear old clothing all the time (in which case you probably wouldn't be reading a fashion blog!).
Here are some of this season's trends I really like:
Polka dots.
Small (but not too small), tasteful ones, like on this shirt by Lane Bryant (photo from
their website
):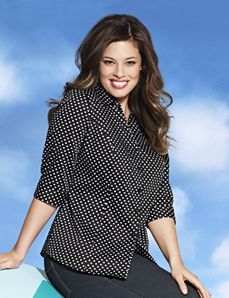 (I own the shirt. The sleeves are a bit of an awkward length for my short arms, but I love it anyway.)
Florals
(depending on the color and size of the print). There are some really nice bright floral prints around this season. No rules here - big or small flowers are fine with me, as long as they're pretty.
Peter Pan collars.
Need I say more about this one? I just think they're adorable.
Blues and greens.
Cobalt blue and emerald green are really "in" right now, and I love them. Oh, and yellow, too.
What trends are you into this season (if any)?
Soon to come: an entry about current fashion trends I loathe.
;-)